ANNOUNCEMENT
Reopened from 1st July 2020
Opening time :  06:30 – 18:30 hrs.
Cleaning time: 08:30 – 09:30 hrs. *(closed for users)
Every Wednesday reserved for ladies: 13:00 – 18:00 hrs.
Make advance reservation: (No walk-in allowed)
call for reserve by telephone number 02-524-5250 only
Information needed for a reservation:
Full name, Student/Staff ID, School/Department, Date, and time would like to reserve,  Phone number.

Use only the designated gate to enter and exit

Please show AIT ID card at the screening point for registration verification
User new normal procedures for swimming pool reservation 
Reserve in advance at least 3 hours before swimming

To cancel reservation inform at least 1 hour before the reserved time

Big swimming pool: one reservation per person per lane for 1 hr. only (6 people/hour are allowed to use the big swimming pool)

Kids pool: one reservation per one family (max 5 persons) / 2 hrs. 1 family (max 5 persons) / 2 hours are allowed in the kid's pool per time 

Temperature checking and logbook registration at the entrance gate of the swimming pool (bathroom side). Temperature above 37.5oC will not be allowed to use the facility.
COVID-19 MEASURES:
Please maintain social distancing and wear a mask when entering the swimming pool gate

Temperature check will be done (Not allowed if found with symptoms of fever >37.5c, cough, sneeze, runny nose, or others).
Remark: Please come on time for your reserved slot. Time will not be extended if comes late.
Please continue to maintain a high level of safety and hygiene measures and thank you very much for your continued cooperation. 
Please take care, stay safe, and remain healthy too.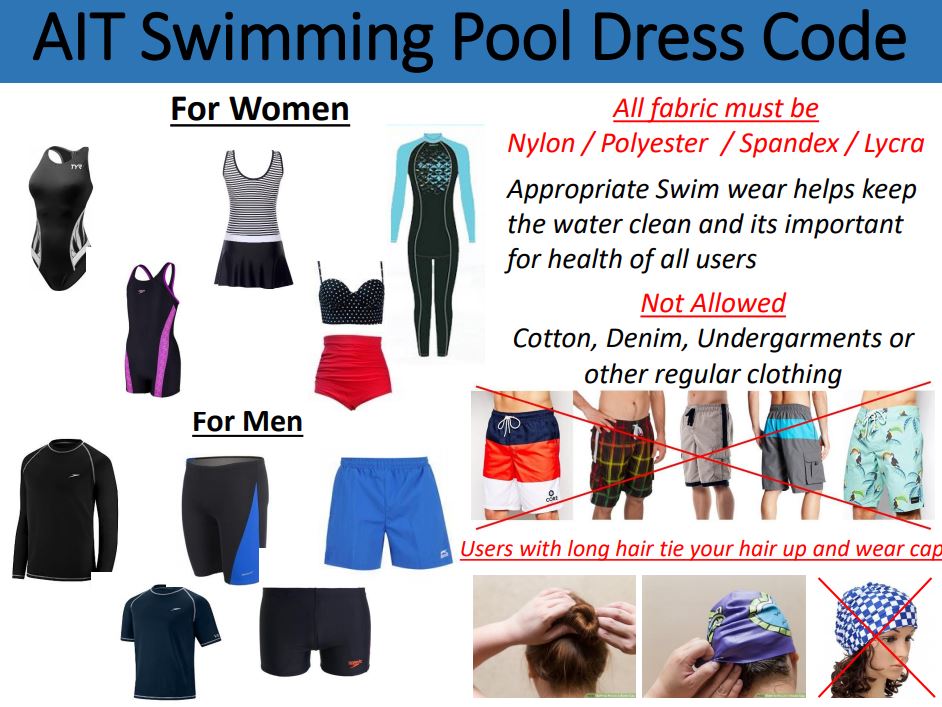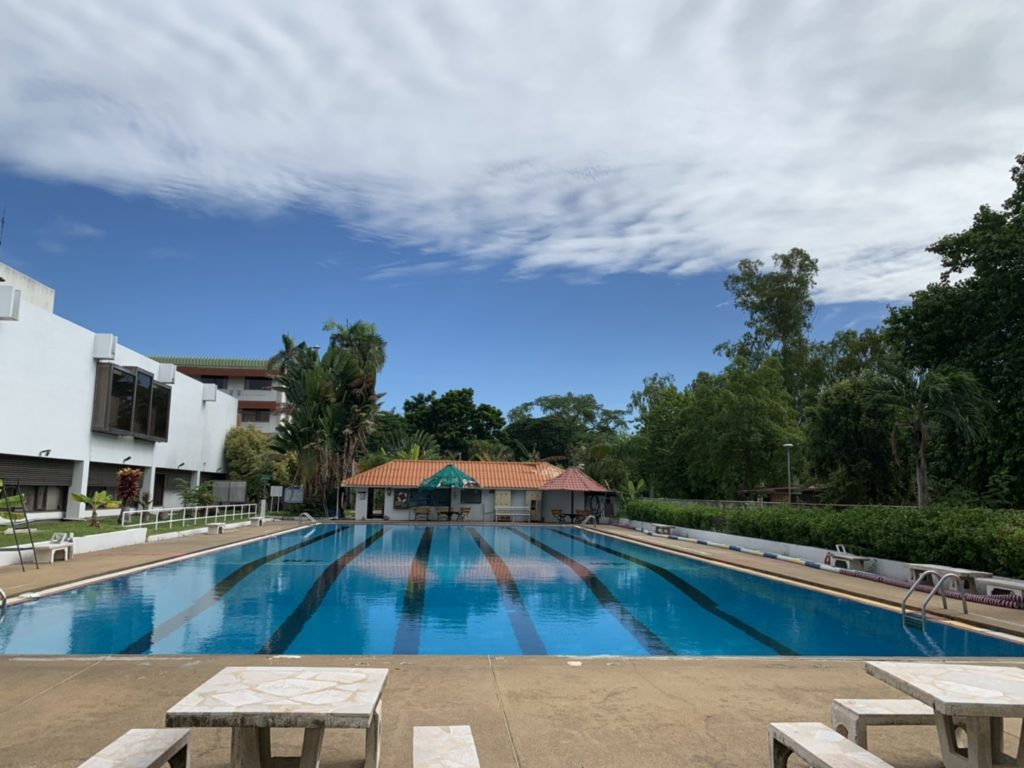 The users are requested to strictly follow the below rules and regulations:
The users of the pool are only the AIT community which includes AIT staff, students, and their families, the visitors at AITCC (strictly outsiders are not allowed).

All users have to register before using the swimming pool and the swimming pool staff may also request for the AIT ID card for verification.

Proper swimwear is required. No outerwear including cut-offs or shorts will be allowed.

Food and beverages are not allowed in the pool.

Bringing liquor or any intoxicating drinks is prohibited.

Individuals intoxicated with liquor are not permitted to use the pool. Lifeguards and/or security guards have the authority to prevent intoxicated individuals from entering the pool area.

Smoking is not permitted at the pool.

Take a shower before getting to the pool.

Take off shoes or slippers before entering the pool deck.

No screaming, running, rough play, or any activity that would disturb other users and prevent general swimming.

No spitting, spouting water or blowing nose in the pool.

Children must be accompanied and supervised by parents or guardians at all times.

Inexperienced swimmer must be accompanied by an experienced swimmer in the pool.

Persons suffering from contagious diseases or those with open wounds are strictly prohibited from using the pool.

Running and playing around the edge of the pool are not allowed as these may result in injury due to falling in the water or falling on the concrete.

For the swimming training lesson, prior permission has to be taken from OFAM.