Procedure of maintenance/repair request
Once the ticket is received by the Call Center, an auto reply email with ticket no. will be send and then will be  transferred to respective service provider to process the request.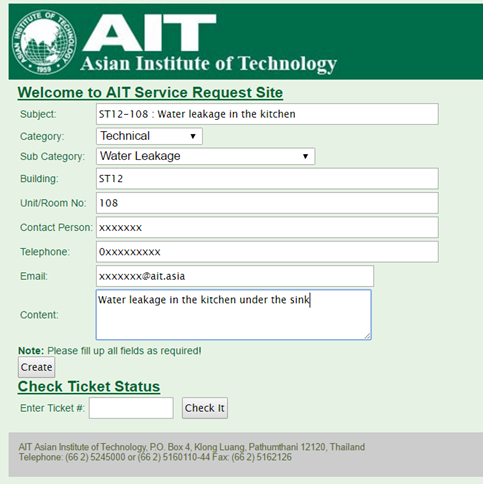 Guideline steps to key in your request
Step 1: Go to www.fims.ait.asia
Step 2: Enter the subject:
Please enter the subject in below format
For Residents: Specify dorm / house / building and unit number: followed by Request details.
Ex: Dorm P–206A: Water leakage in kitchen sink.
For Others: Specify building name / office area and room number: followed by request details.
Ex: SERD Building room E-220: Lights are not working
Step 3: Enter the category & subcategory of the request
Ex: Technical/Water Leakage
Step 4: Provide accurate information of the name if the building / room / unit number, telephone and email.  These information are necessary in order for our team to contact/coordinate with the requester.
Step-5: Click create and then a work request will be created.  An auto reply e-mail with ticket number will be sent to the e-mail provided.  When following up a request, please always refer to your ticket number.
Note : To create a request with an attachment (Ex: Picture of location) please send an email with attachment to callcenter@ait.asia.
Category of work requests in FIMS
Technical
ES-Electrical Services (minor Electrical repair)
EQ-Equipment (Refrigerator, Fan )
FP- Fire Protection
FR-Furniture (minor repair; service only accommodation)
HVAC- Heating Ventilation & Air Conditioning
KE-Kitchen Equipment (Stove out of order, gas pipe leakage)
BU-Building Service (minor repair eg. Floor, Wall, Ceiling)
PT-Painting
TV-Television
HVAC-(Air Cond out of order)
LI-Lighting (Lighting out of order)
DR-Drafting request
WL-Water Leakage
SN-Sanitation (Toilet out of order)
MUS-For all related to main utilities shutdown (Electricity Shutdown, TAP water Shutdown)
HS-For all related to Health&Safety (Fire, GAS Leakage, Electricity Shock/Leakage, Pathholes, Pavement repair, road repair)
OTMI-Other technical maintenance issues
Landscape
GR-Ground (Road)
GM Ground Maintenance 
TRL – Trash removal 
OGI-Other Gardenning Issues
Janitorial
Sanitation (SN)
Building cleaning(CN)
TRJ – Trash removal (Janotorial area)
OJI-Other Janitorial issues
Accommodation
GAS – Gas
UC-Unit  Special clean (UC)
KR- Key request
OAI-Other accomidation issues
Pest Control
SPC – Special pest control
BC-bug Control
TC-Termite control
OPI- others Pest issues
HS-Health & Safety